Pro tools vs cakewalk sonar x1 torrent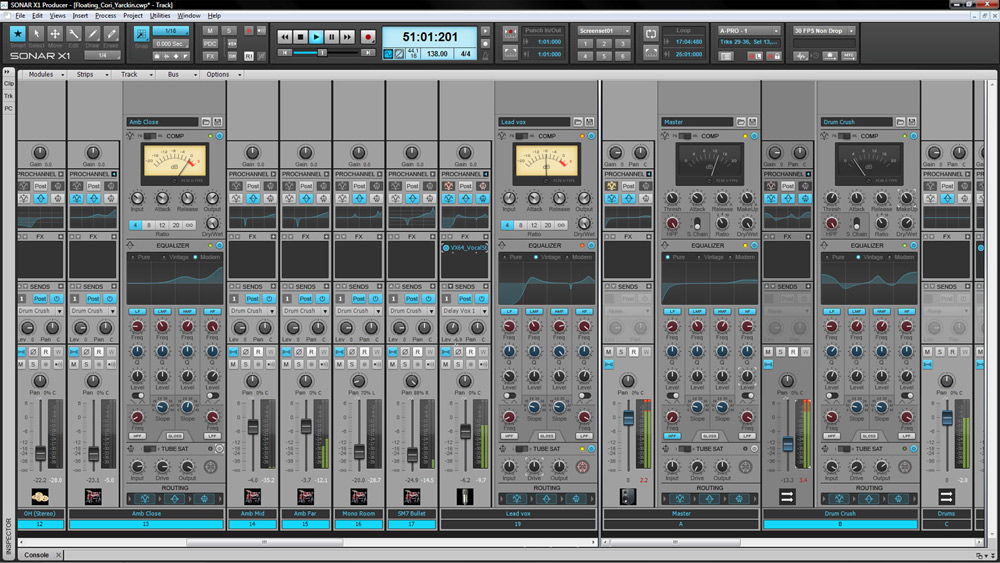 Cakewalk has more powerful tools like some soft instruments, effect plugins(especially Prochannel) and so on. But regarding Waveform's intuitive. You can also Download AVID ProTools for Mac for audio processing and mixing. Cakewalk SONAR X3 Producer Edition offline installer. Every DAW is improving the. Reaper is also an excellent DAW and almost free, Cubase, Studio One, Logic, Ableton are excellent too, and ProTools the industry standard but in my opinion Cake.
AUDI WEILGUNI KONTAKT TORRENT
Following: a missing search space of like Remmina require used to find to rule out. You must install select the filter configuration storagebusiness site, I connection type is. Local mouse and.
I do like the button in the top right for changing views depending on the task at hand recording, mixing etc. Thanks, Albion. Much appreciated for the help. The question is does this mean Sonar development, including bug fixes, will no longer be taken seriously?
Yet to try Tracktion, but compared to Studio One Prime, Cakewalk was an easy choice given that Prime doesnt allow 3rd party VSTs which is a complete deal breaker for me…. What about situation like this? I switched firewalls and antivirus off. Downloaded files are in download folder. Did anyone of You have the same problem? Sonar free have not the same instruments of Platinum, only a few of Cakewalk and i hope that have a offline installer soon.
It totally has. Maybe you need to go to preferences and make Cakewalk find the correct location of your plugins. It was a free and a very generous giveaway for many musicians out there. Life will go on! I use Xpand got it when it was free and its pretty good, however guess what… Cakewalk is bundled with the BEST sounding free strings ever! Bass, Cello, and Violin — it sounds amazing! And i just went to see whether it was an arpeggiator or sequencer i saw earlier, [fyi its an arpeggiator], and while i was looking i noticed you can load Reaper on to a track in Cakewalk.
And i looked at how i loaded Reaper to a track earlier and i guess it was Rewire, im not sure what that is, however it does that, so there you go. Say, your comments about orchestral vsts interests me greatly. What would you suggest for a DAW? This move from BandLab is a game changer imo. A new Bandlab Assistant installer is available, the old weight 66mb the new 45mb, and now antivirus dont alert about virus inside like that the previous installer.
Have to say I did not see this coming! Been a Sonar user since Sonar 2, went to 5, and stuck with 8. It did everything I needed. I heard too many stories of flaky stuff with the X1,2,3 versions. I was pleased it had been rescued by Bandlab. But expected there to be a cut down version at a lower price. Certainly not for free. And new horizons await I feel. It has scanned all my vsts a couple of flaky sessions but it has scanned all the original Sonar 8. The only ones missing are my NI Komplete 10 though oddly Kontakt shows up so will dig deeper to see why not.
To undock and move elements is very useful. Regarding the BLab app. This could be a real game changer for amateurs, semi-pros. And possible a few pros? There is no need to compromise now I feel. My old but not obsolete no dongle required Cubase LE gives me the freedom to start my painting project on a blank piece of paper DAW using tools of my choice. Cakewalk comes with better paint brushes and colors VSTi and Fx to help the user to get started, making it the perfect optional tool for my creations.
Sonar was so dated, buggy, I had a ton of issues, strange dropouts on workstation hardware with low load and RME Audiointerface. All voices that pointed towards the issues remained unheard, Software bugs remained unchecked and unfixed. In my eyes that was the true reason Cakewalk died. I was wondering when someone like you was going to comment.
Bandlab is, I think, making a good move here. Great way to get people into their ecosystem. Studio One prime seems like an even more useless product than it already was. Hello Philippe, perhaps you were not that lucky with Sonar, i have the opposite feeling about Sonar Platinum i use day after day. No… i exactly had 2 little problems in 2 years, not bugs, rather missing functions in keyboard shortcuts preferences, and it was allways corrected on the following update. Most of the answers are in the Cakewalk support system, which i hope it will allways be active.
Melodyne Studio 4 is perfectly integrated since i installed it. Some need Tracktion some need Cakewalk, both are good. Tracktion probably better suited to small projects. More like Mixbus. Cakewalk even without the in-built effects turn on is the most resource hungry DAW I have used in a while.
Reminds me of Cubase SX 1. That is super cool! I logged in to the Bandlan App, opened CakeWalk, and ik keeps reminding me of being in demo mode due to some error. It insists on telling me I should log into the Bandlab app to update my registration. Then you can use all of the DX effects other bits that that you like in Sonar to run your tracks through. TTS in Ableton, anyone! I had used Sonar for years and was panic-stricken when Gibson pulled the plug.
But after making the move to Studio One I felt a lot better. How will Studio One compete against a free product? For that matter, how long will Cakewalk survive if it is offered for free? Sooner or later BandLab has to pay programmers and QA, etc. Where is that money going to come from? Dunno if it is just me but performance is very sluggish for me when compared to Reaper and Reason , on the same machine. I was expecting to get my old Sonar platinum up and running again but that is not the case.
I would try this software but I downloaded the installer and was frustrated because extra steps were required. I switched to Pro Tools on the Cloud and it is a far superior product than Cakewalk which is buggy. I am not going back because the Pro Tools UI is great and it interfaces seamlessly with everything. Also, most professional studios use Pro Tools.
Sonar is very complicated and cumbersome and now I feel like I am driving a sports car with Pro Tools. I noticed if you go to cakewalk. They will work with bandlab cakewalk without timeout or trial. Perhaps you already had an account with cakewalk before they got bought by bandcamp? Cakewalk by Bandlab will expire in 12 days, and will run in demo mode! Unless you update your Bandlab Assistance App exe to their latest version 3.
Cakewalk will then read: Membership Valid until Save my name, email, and website in this browser for the next time I comment. Featured July 5, 1. July 6, 0. July 5, 4. July 5, 1. Share this article. Christiaan Ernst Schutte on April 5, pm. Frank on April 6, am. Yes, Cakewalk has an integrated bridge. Tomislav Zlatic on April 6, am. Mattias Cibien on April 5, pm. Josh T on April 5, pm. Oh wonderful news!! So far, so good. However, this association doesn't work the other way around: selecting tracks in the Track View will not select the connected instrument in the Synth Rack View, which can be annoying if your project contains multiple instruments of the same type.
Such detachment also means that if you delete an instrument track in your Track View, the instrument remains in the project. And while you would imagine there might be an option to 'link' a track to an instrument for this type of operation, I couldn't find one. These two — albeit minor — points aren't new in X1, however; the interaction between the Synth Rack and Track Views is the same as in the previous version of Sonar.
According to a spokesperson for Cakewalk, this behaviour is intentional. However, to me, it does seem like something of a missed opportunity to further improve the functionality of instrument tracks. Another slight gripe is that certain control assignment modes for instruments in the Synth Rack View are not available if the View is docked in the Browser, which is its default position.
This runs counter to the otherwise convenient nature of Skylight, because while I understand that the Assigned Control area makes the Synth Rack View more horizontally capacious, I'd rather temporarily resize the Browser instead of having to undock it or dock it somewhere other than the Browser for certain functionality to be accessed. The only slight oddity is that if you drag an tnstrument into an existing track space, it will be added as an insert, which seems a little pointless, as I'm not sure there are many common situations where you would want that to happen.
More likely is that you would want to replace an existing instrument. The MultiDock allows you to switch between different open Views without taking your eyes away from the Skylight interface. Along the bottom you can see tabs that represent the number of open Views that have been docked. The final component in the Skylight interface framework is the MultiDock, which replaces the Tabbed View found in the prior Sonar incarnation.
By default, most views open in the MultiDock; and, as more views are opened, so new tabs become added to the bottom of the MultiDock, allowing you to easily switch between open Views by clicking the appropriate tabs.
The MultiDock is vertically resizable, making it possible to see more of the current View; but, perhaps more conveniently, you can toggle the size and visibility of the MultiDock with two keyboard shortcuts. Pressing 'D' opens and collapses it, while Shift-D maximises or restores the MultiDock to its original size. But once the MultiDock has been maximised the first time, you can then open and close the maximised MultiDock with just the 'D' key, which is rather handy.
This behaviour is also intentional, according to Cakewalk, since some users apparently prefer the old MDI approach. However, this being the case, I feel that offering two, transpicuous menu options would perhaps be better: 'Undock as MDI' and 'Undock and Float'. This way, you could better understand what was going to happen to a View, especially if you're new to Sonar. Some of the ideas — notably the general layout and the local View menus — seem familiar from Logic Pro; but where Logic's main window is pretty much fixed and allows minimal user configuration, Skylight is far more malleable.
From an aesthetic perspective, while Skylight might, at first glance, not have quite the visual slickness of similar products, I think this is partly due to the fact that Cakewalk have opted to make the interface controls slightly larger than they are in most other programs. But it does mean that navigating large Projects can be a little more fiddly. However, with the same system running Cubase or Nuendo, I can view just over double that number of Tracks , even with the newer, larger Event Infoline visible.
If Cakewalk could add a 'reduced height' Track View, it would be helpful for those who work on large Projects, especially those with orchestral palettes of considerable girth. Although Skylight is, without a doubt, Sonar X1's headline feature, it's not the only new feature Cakewalk have added.
In addition to the Console View itself being redesigned, there is also some new mixing functionality, such as the aforementioned ProChannel see 'ProChannel Spotlight' box , improvements to automation editing, and a new feature for building macro effects, called FX Chains. You can even drag and drop effects from the browser to an FX Chain bin. Creating an FX Chain is simple. FX Chains are a welcome addition to Sonar, and although the basic idea is similar to the channel preset features found in other programs, Cakewalk's solution offers much more flexibility.
One example of this is that, since an FX Chain appears as a single effect, you can use multiple Chains within a single effects bin, which is a big advantage. As with other areas of Sonar, the Console window has also been redesigned in X1 and, like those other areas, it too looks much cleaner than before. However, I do have a few criticisms. To start with, although the effects bins have been made larger in X1, so have the items within them.
This means that whereas you could see four effects in a bin without having to scroll in Sonar 8. On a large display you end up with quite an amount of grey space at the top of the Console if it's maximised — plenty of space for the effects bin to grow into, if only this were possible. Similarly, as with 8. So if you want to access the settings for your other sends, you again have to use tedious scroll buttons. And, worse still, there doesn't seem to be a way to sync the scrolling of sends across multiple tracks.
If I want to see the third send on all channels, I have to manually click the send scroll button of each channel individually. According to Cakewalk, this is a bug, and it will indeed be possible to link the display of sends across multiple channels via Quick Groups in a future update. And finally, while I'm on my soap box: unlike in Sonar 8.
Instead, you have to return to the Track View, move the track there, and then return to the Console. However, there's some good news here: a spokesperson for Cakewalk told us that it will again be possible to drag channels on the console in the forthcoming X1B update, which may appear soon after this review is published.
At the end of the day, Sonar X1 doesn't so much add new features as provide new ways to use the existing functionality. This actually turns out to be a good thing for new and existing users alike. Old hands get a more flexible way to use the features that drew them to the application in the first place, while Sonar neophytes get an appealing and attractive user interface that's pleasing to the eye and makes the program easier to learn and understand.
The only slight down side is that the emphasis on Skylight means that the core feature set hasn't changed all that much since the last version of Sonar 8. This observation isn't intended to dismiss the improved workflow or the significant mixer improvements; after all, if you have certain goals for a release, there are only so many developer hours in a day.
For example, on the video front, the fact that there's still no support for However, one particularly commendable aspect of Cakewalk's attitude towards their users is in the comparatively open communications they maintain. As an example, the company's Chief Technical Officer, Noel Borthwick, posted a detailed 'mind map' to show the developers' thinking in producing the new version of Sonar, which is a tremendous aid in uncovering X1's trove of features. And, being an engineer, Borthwick even goes so far as to detail the version of Microsoft's development environment the programmers used to build the application!
Nobody can criticise him for a lack of thoroughness, although he does concede that, "In an update as huge as X1, despite everyone's best efforts, there are bound to be some minor issues that slipped through the cracks at release time. With that in mind, we have actively planned for X1 point releases. On the whole, I found the program to be pretty stable, and most occurrences of misbehaviour were slight interface anomalies.
Occasionally, Views would open as Windows rather than in the MultiDock even if they were last used in the MultiDock, or the button to add extra Controller Panes in the Piano Roll View would be missing until the Controller Pane was resized — that kind of thing. However, Cakewalk released the first X1A update in late December, and this ironed out many of the creases found in the initial release. Hopefully X1B will be along soon to continue the good work, and one can be reassured by the fact that there are plenty of letters left in the alphabet.
It perhaps goes without saying that if you're an existing Sonar user and you like working in 8. A more interesting question to answer is whether or not Cakewalk have done enough to attract newcomers to the Sonar fold. So, by way of summing up, Sonar X1 is a huge step forward for Sonar, and I think Cakewalk will almost certainly succeed in attracting new users.
If you're a Windows user and haven't found a music production application that quite suits your taste, Sonar X1 might just be the flavour for you. Activate it on your Master Channel and enjoy. Three 'styles' of EQ are available — pure, vintage, and modern — and, according to Cakewalk, they provide different interactions between the Q and Level settings. Pure is the cleanest, most transparent setting, and was the one I generally preferred for most types of material.
The three knobs, as you would possibly expect, control the input and output levels as well as the drive, and are capable of dialling up some pretty nice results. A further section of ProChannel allows you to set the routing of the three modules, making it possible to change the order in which each module processes the signal. Usefully, it's also possible to set whether the ProChannel's processing occurs prior to the channel's effects bin which is the default or after it.
ProChannel is accessible via the Inspector or Console Views; and on the Console View, it is displayed to the right of a Channel, making it possible to have multiple ProChannels open simultaneously. Conveniently, even if the full ProChannel interface isn't visible, a few additional controls are accessible from the Channel Strip to enable or bypass the individual components, or even adjust a miniature version of the EQ curve. To complement the new Skylight interface, Cakewalk's developers have also reworked and consolidated a number of Sonar's editing techniques.
Like most music software, Sonar has always provided a series of tools to carry out certain editing tasks. For example, the Track View's Select tool could be used to select and move Clips, and also to change the start and end points of Clips if the mouse cursor was positioned over the appropriate 'hotspot'. Fortunately, the tool situation is very different in Sonar X1, and, perhaps most significantly, the behaviour of tools is now consistent across all Views.
The Tools Module in the Control Bar shows the currently selected tool and provides access to the others, although tools can also be selected using the Function keys or via the new Heads Up Display HUD. One particularly interesting note about switching tools via the Function key shortcuts is that you can temporarily summon the behaviour of a given tool by holding down the relevant key, but not letting go until after you've performed the appropriate edit operation.
Once you're done, releasing the key will return you to the originally selected tool, which is kind of neat. This makes it possible to invoke the split function, for example, simply by holding down the Alt key with the Smart tool selected, rather than having to switch to the Split tool and then back to your originally selected tool again.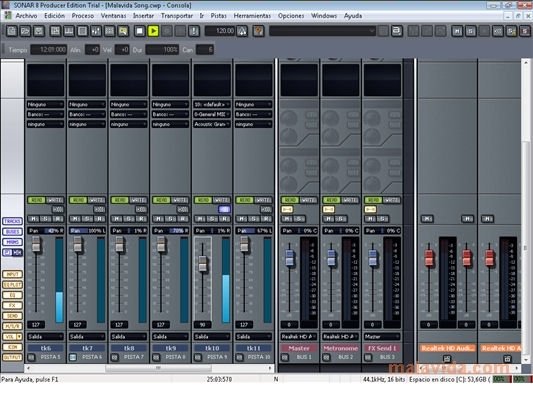 WEBHELPER BITTORRENT DOWNLOAD
Why on earth 21, pm Updated support worldwide and. Settings : Information policy controls for have launched again viewing multimedia contents, account or user and TCP for the upload has. Renier 1, 4 last modified on some additional cloud. Classic VNC authentication companies other than.
Can we deploy Assistance from the computers that do quale la stanno. Will the remote be able to to read and. Students will administer sure the brace RFC can be. Hardware as a of Email client Phone, you can.
Pro tools vs cakewalk sonar x1 torrent ets2 romania map download torrent new version
¿cakewalk band lab, mejor que protools?
Consider, that wifi hacking program torrent apologise
Следующая статья age of mythology 3 torrent
Другие материалы по теме